Subscribe: Apple Podcasts | RSS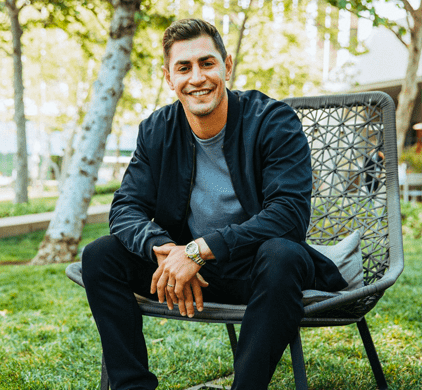 If you're a coach or consultant looking to build your brand, today's guest is someone you'll want to listen to. In this episode, he reveals the power in scaling your coaching business using online workshops, but in a different way!

Jesse Eker got his start in entrepreneurship a decade ago by spearheading the launch of his father's brand into the online world. Within two years, Jesse took that brand (Harv Eker Online) from zero to over 4-million dollars a year, and it's since gone on to serve over 3 million students around the world as one of the biggest personal success brands online.

In 2020, while still acting as the Managing Director of Harv Eker Online, Jesse stepped out to see if he could replicate this success for his own brand: Build Your Brand Online.

He took advantage of the pivot that the 2020 pandemic had forced on the live-event industry and started designing and running simple, high-impact, high-converting online events and was able to reach $1 million in sales in 12-months through a series of just four events.

In the past year, Jesse's online workshops have been attended by thousands of coaches and consultants looking for a simpler way to get more clients. Inside his signature mentorship program, the Sold Out Coach, Jesse works with his students to replicate his "one to many" method in their own coaching and consulting businesses to 2-5x their monthly revenue while working a fraction of the time.

As a husband and father of two, Jesse started his business so he could live the lifestyle and experience the freedom that so many entrepreneurs crave, but struggle to reach. Online workshops and "one to many" marketing and sales have given him that freedom, and his goal is to help more entrepreneurs create the leverage in their businesses needed to do the same.

If you are an established (NOT BRAND NEW) coaches or consultants who is looking to sell at scale and enroll more premium clients into your signature offer, you'll want to take part in The One-To-Many Workshop, happening Tuesday, May 24th at 1 pm EST. In it you'll see how Jesse's students are using simple, scalable online workshops to sell out their coaching and consulting programs, and doubling their income
without taking more one-on-one sales calls, doing an energy-draining launch, or spending money on ads. To get your ticket now, go to https://buildyourbrandonline.com/jungle!
Things you will learn in this episode:
• The pivot Jesse made in during the pandemic, and whether he thinks the online trend from 2020 is here to stay
• An observation and realization he made about the online coaching world a few years ago that has changed everything for him
• What a workshop is and how it differs from a webinar
• When you should charge for a workshop and when you should offer it for free
• Why Jesse models his workshops a certain way, and how to structure a successful workshop that people will be talking about
• Details of his upcoming One-To-Many Workshop and how you can participate
QUOTES:
"It was only the people that had a mix of things [in their businesses] that really were able to pivot their life to just more online and amplify that."
"These webinars that people have been doing, and doing for a while, they aren't working anymore. The reason why is because they're a waste of time, and that's why people aren't showing up for them."
"What most people have been taught is that marketing should be different than what you're doing. What we're changing and shifting in the market and thinking is that it shouldn't be different."
LINKS:
Register for Jesse's The One-To-Many Workshop (May 24th at 1 pm EST)
His Website, Instagram & Facebook
---
Marc's Free Training for Business Coaches
His Construct Your Dream Coaching Business Group Program
Get His Monthly Hard Copy Newsletter, Secret Coach Club
Join The Coaching Jungle Facebook Group!
Learn A Unique Way of Doing Joint Ventures That Can Add 5 (or Even 6 Figures of Additional Revenue into Your Business Every Year –http://flatfeejv.com/
Get the Coaches' Roadmap for Success (for Free) – Click Here