Subscribe: Apple Podcasts | Android | RSS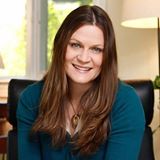 Julie Gray helps clients gain at least an extra 10 hours a week with her unique time management solutions.  As a coach, blogger, trainer and author of "The True For You Time Management Workbook", she helps her clients get a handle on their time and produce better results in their lives!
BECOMING A COACH 
Julie got started as a professional organizer back in 2007.  A few years later, she wanted to expand on that, and she decided to start a coaching business.
BIGGEST OBSTACLE 
Seeing her value and getting it!  Julie discounted her services in the past, before realizing that she deserved what she was charging.
GETTING NEW COACHING CLIENTS
Julie does a lot of speaking, gets referrals from past clients and business from her email list (email marketing is important to her business)
BEST COACHING RESOURCES
Online schedulers (like ScheduleOnce)
MOST IMPACTFUL BOOK
"The War of Art" by Steven Pressfield

CURRENT COACHING PROJECT
Julie is creating a "Two Day Time Turnaround" for clients, where she'll fly out to clients to work with them in-person.
INTERVIEW LINKS