Subscribe: Apple Podcasts | Android | RSS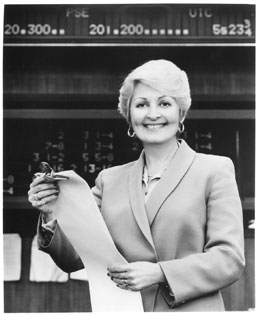 What can coaches learn from Norma Yaeger? A lot! The author of "Breaking Down the Walls" was the first female stockbroker on the floor of the New York Stock Exchange, and had to battle through a number of challenges to become successful!
NOTES FROM THE INTERVIEW 
– Norma was a homemaker who needed to bring in an income since her then-husband wasn't making enough to support the family.  She saw an ad from a major brokerage firm looking for trainees and she went for it (despite there being no women brokers on the NYSE at the time).
– "Don't negotiate for better pay at your job, negotiate for better pay before you take the job!"
– Norma talks about the discrimination that she faced from men on the floor of the stock exchange.
– She shares her advice for how to get over rejection.
– "In order to separate myself, I had to look different.  You have to look for some way to put yourself out to be different"
– "Recognize the opportunity and go for it!"
– Norma talks about how she wrote her book, "Breaking Down the Walls" and how she wants it to be a legacy for her children.
INTERVIEW LINKS