Subscribe: Apple Podcasts | RSS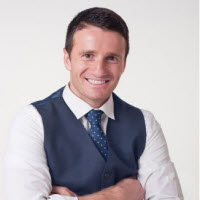 Danny Flood is the author of the new best-selling book "Buy Your Own Island", which shows people how they can create location-independent businesses and live the life that they truly want.  A true digital nomad, Danny has spent the last 4 years travelling the world (he's currently in Bali) and tells Coach Nation how easy it can be to do what he does.  He's also giving a free audio version of his book to those who listen to this interview!
BECOMING A COACH 
Danny wasn't happy with his previous entrepreneurial life, and hated the typical business networking events that he was attending.  He met with his friend who had a "Bucket List" group, and did an exercise called "Dreamlining" which forced him out of his routine (and into a life of coaching while travelling the world).
BEST COACHING RESOURCES
 Streak – email tool
MOST IMPACTFUL BOOK
"Never Eat Alone" by Keith Ferrazzi

CURRENT COACHING PROJECT
Danny is starting a new magazine soon!
INTERVIEW LINKS